November
February 9th, 2016
November publication forthcoming: December 2016
Owing to a series of short-term problems at Dalkey — and also no doubt to the length of the novel itself — the publication of November has suffered a series of postponements. It is now, I am delighted to say, scheduled to appear in early December 2016. Dalkey books are now being distributed by Ingram and Dalkey's American offices have moved from Champaign (IL) to Victoria (TX). For more information about Dalkey Archive Press, see the links on my home page.
N.B. The cover originally planned (see below), featuring Petra Wildenhahn's lithograph Stadtgesichter, will in fact now make way for a different design, based on the said lithograph, which will instead be reproduced to serve as a frontispiece to the novel itself. As of today (7 Feb 2016) the draft cover may be seen by clicking – you guessed it! – on 'Draft Cover', in the sidebar.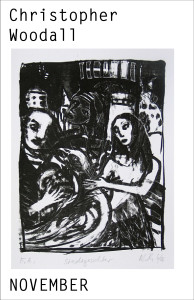 Blurb taken from Dalkey Archive's website:
This novel takes place over the course of two and a half hours one evening in November 1976 at the plastic die-casting workshop where these men are employed. Staggering in scope, November is a virtuosic performance—a contemporary take on the classical modernist novel, anatomizing the ways we live, think, and labor; what we have lost; and what we are losing.
Format: paperback
Number of pages: 760
ISBN-13: 978-1-62897-111-8
Publication date: December 2016
Language: English